In May 2020, BC Creates interviewed Alexis Roumanis about his role in creating free COVID-19 books for children. Here's the article:
ALEXIS ROUMANIS OF ENGAGE BOOKS WANTS TO HELP CHILDREN UNDERSTAND COVID-19
Explaining COVID-19 to young children can be challenging for families. Engage Books wanted to create accessible resources for parents and educators to help children understand the significant impact that COVID-19 is having on their lives. Engage Books created multi-level educational books to empower young children to read about COVID-19 on their own, or with the help of an adult. This simple act empowers young readers, and is an important step in making this situation a little less scary.
As COVID-19 is affecting millions of children across the world, Engage Books strives to translate these books into multiple languages. To help support their efforts, physical copies are available for purchase. To help make this book available to as many children and families as possible, this eBook is offered free of charge to everyone.
Engage Books partnered with Munday Media & Design to donate a Story Walk of the Level 2 and Level 4 books. Each page of these books are now printed on signs, and placed in the park at Oliver's community centre for families to read the entire book as they walk from sign to sign. We chatted with Alexis Roumanis about his determination to take an initiative in educating facts in a meaningful way.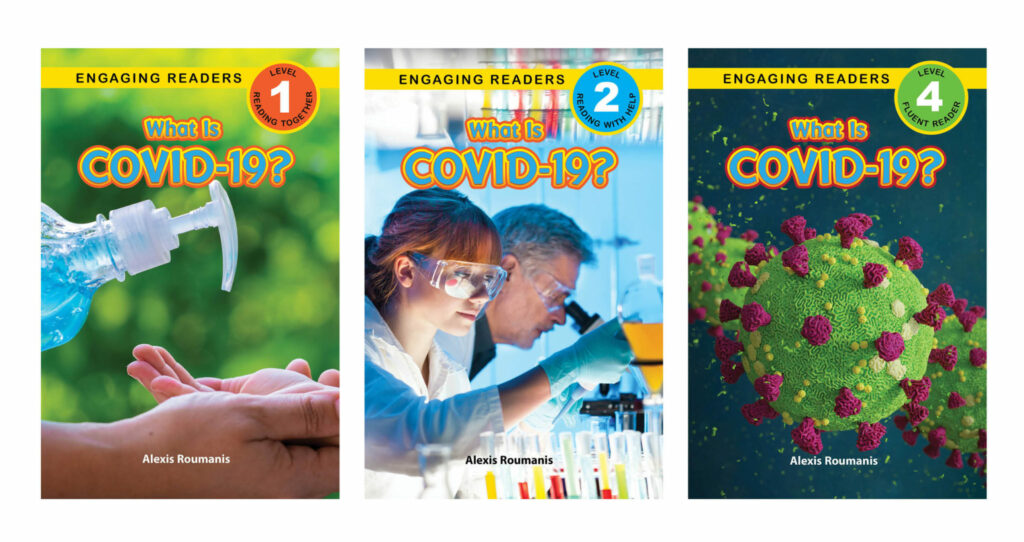 Tell us about your book and how it came to ideation.
When schools closed in March, my boys (6, and twin 5-year-olds) were asking lots of questions about COVID-19, and I realized that parents around the world are being asked similar questions. A few days later, I decided to use my experience in writing and publishing children's books, along with the involvement of talented publishing professionals, to put together three books for Level 1, 2, and 4 readers.
Did you collaborate with anyone to create the book?
Over the past several years, I have worked closely with children's book editor, Jared Siemens. He has a keen eye for detail, and knows intuitively how to structure a children's educational book. Recently he has been working in the non-profit sector, performing a wide variety of relief and poverty prevention work internationally. When I approached him with the COVID-19 series, he immediately appreciated the significant impact that this could have on children, and began helping me with the finer details of structuring each book. I am very grateful for his help.
Tell us about your work at Engage Books
Engage Books publishes a wide variety of content. I began by publishing classic titles from the likes of Charles Dickens, Jane Austen, and James Joyce. Since, Engage Books has branched out into a variety of areas including bullet journals, and children's books. One of our books, The Toddler's Handbook, has been so successful that we have translated it into 20 different languages. I divide my time between writing, editing, finding new images, laying out new content, and coordinating workflow with publishing professionals. One of my favourite things is coming up with new concepts, and planning out a new series of books.
What were the early days of your career like? How did you get to where you are now?
After I graduated Simon Fraser University, I enrolled in SFU's Master of Publishing (MPub) program in 2007. During my time in the MPub program I established Engage Books, and began publishing some of my first books. My goal upon entering the program was to start a book publishing company, and I wrote my thesis on this endeavour. After graduation, I began working full-time for other publishers, and built Engage Books slowly in my spare time. Over the past decade, I've edited hundreds of children's books, and written about 100 educational books for other publishers for children in grades K-12. Engage Books now has several hundred titles, and I am now able to focus solely on Engage Books.
What inspires you as a creator? What are your influences?
When I focus on a new project, I wonder how I could make the most of myself, and what impact my actions could have on others. When creating children's books, I am appreciative of the positive effect that words can have on developing minds. My ultimate goal is to instill a belief in children that anything is possible. I am inspired by Elon Musk. Not because of his success and an individual, but because his actions are focused on solving real-world problems. When faced with the threat of pollution, Elon Musk decides to focus on electric vehicles, and creating renewable energy with solar panels. To make travel safer and faster, he began digging tunnels under major cities and plans on connecting cities with ultra-fast Hyperloop pods. Musk is also dead-set on sending people to Mars as humanity's ultimate safety net.
What advice would you give to someone starting out in the industry?
Publishing in an industry with many creative outlets. It has allowed me to branch out into writing, editing, production, marketing, layout and design. My advice is to learn as much as possible about the publishing process, as it will not only help you become better within a specific field, but it will give you an opportunity to move your expertise to multiple departments. The best way to learn about the publishing process is to attend Simon Fraser University's Master in Publishing (MPub) program. It is an in-depth, and rigorous 16-month program that helps students to develop the practical and conceptual tools they will need to flourish in an industry that is constantly changing. I am extremely fortunate to have found the MPub program nearly 13 years ago and am happy to see the program flourishing under its director, John Maxwell.
What impact do you hope to achieve with those who read the book?
My goal with Level 1, 2, and 4 readers is to empower young children to read about COVID-19 on their own, or with the help of an adult. This simple act empowers young readers and is an important step in making this situation a little less scary. As COVID-19 is affecting millions of children across the world, we are striving to translate these books into multiple languages. I have enlisted the help of three of SFU's graduate students from the MPub program to work remotely with professional translators in different countries. They are working fast and will have French, Spanish, and Hindi editions of all three books available for distribution in early May. Our goal is to reach as many children as possible.
Where can people access and purchase the books?
To support our efforts, copies of all three books are available for purchase on all Amazon websites. eBooks will be available on all major platforms in May. Libraries can order directly through Ingram's iPage.
Are you doing any innovative creating from home during this time?
When I contacted the MPub program several weeks ago, I was surprised to learn that most of the 16 student's internships had fallen through. Many publishers decided not to take on interns while their offices were closed. I hired on two interns by distance, one from BC, and the other has moved back to her home in Ontario. We are collaborating on a daily basis, using Zoom, Google Docs, and email to keep in touch. Generally an intern would work closely with a supervisor in a publishing house, however, we are finding that with the use of innovative technology, we are able to collaborate and accomplish daily goals. The internships have started off extremely well, with the MPub students developing interactive eBooks, and new content for young children. It is difficult to see students held back by COVID-19, and I am excited to be working with such a talented group of people.
Support Engage Books by purchasing copies on Amazon: Level 1, Level 2, and Level 4
Note: Proceeds from the sale of these books have been donated to Tuc-El-Nuit Elementary School.